Posted by Eddie Schmidt on Mar 7th 2012
Well, we did it! After 31 years at the same location, we took a huge leap forward and undertook the monumental task of not only purchasing, but also moving into a new and larger facility that boasts 7,500 square feet of show room space. While moving is never fun, especially with the large and diverse inventory of about 10,000 different items we carry, we're pleased that not only is the new store larger, it's directly across the street from our original location. In fact, we shuttered the doors at the original site on February 10th at 11:59 AM, only to re-open them one minute later — 12:00 noon, at our new location, 10 N. 29th Street, Billings, Montana 59101.
| | | |
| --- | --- | --- |
| | | |
| Our original store | | Our new location across the street |

Should you find yourself in the Billings area, please stop in and visit us. Who knows, you may even find yourself watching the behind the scenes filming of a TV program. In 2011, The Discovery Channel was developing a TV reality show based on survival gear. They chose Billings Army Navy Surplus to shoot their demo video. In addition to the occasional movie producer, everyday workers, hunters, and outdoor enthusiasts seek out Billings Army Navy Surplus to meet their needs. Moreover, we are constantly adding new inventory to the selection we carry.
It's been less than a month since the move, and we are happy to announce that we're already operating at full capacity. The reports we are receiving from our long-time clients, as well as those who are newly discovering us, have overwhelmed us with their tremendously positive support and responses. Our customers recognize the incredible value we offer in addition to military surplus. In fact, we are sometimes able to locate special finds like old Coleman parts. Collectors find themselves drawn to unusual items such as a 1930s Addressograph for stamping dog tags or a 1943 Lassiter/Kaufman glider frame. History buffs and reenactors come to our store to get outfitted with Vietnam era and World War II clothing and gear.
As the motto in our ads has always stated: "Same great products, same great staff, same great attitude."
With much needed and deeply appreciated help from so many family members and friends, the move went remarkably well. Additionally, we also want to recognize the McKell Brothers Hauling company. We were already familiar with their strong work ethic and professionalism, as we entrusted them to help with the move to our new home seven years ago. We are glad to report that the two days we hired them to help us move into our new store proved once again to be a wise decision. Trustworthy and conscientious, they unfailingly arrived at 9:00 in the morning, and with hardly a break in between, would not leave until 6:00 at night. We couldn't recommend the McKell Brothers Hauling company any more highly. They're worth their weight in gold.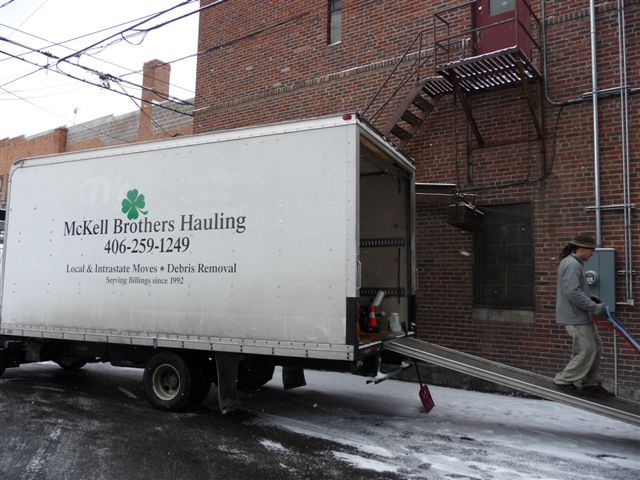 McKell Brothers Hauling did a great job moving us.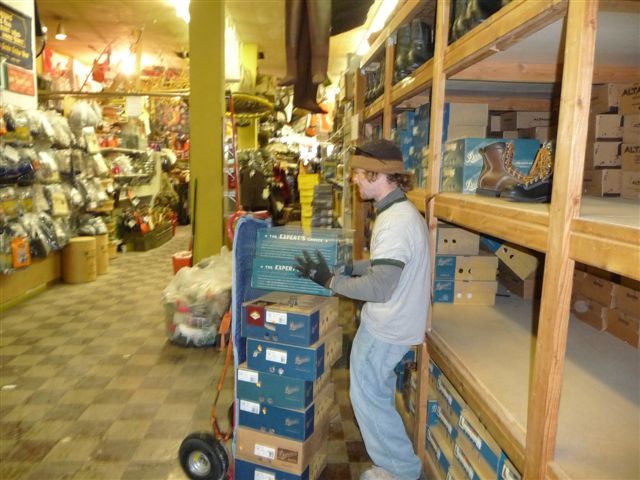 Lot's of stuff to load.
And to you, our amazing staff and volunteers, we offer you our deepest thanks and gratitude — we could not have done it without you!
Mitch Bonawitz, Zachary Phelps, Marty Martinson, Tom Jacobson, Dave Wunder,& Dennis Mullikin, Richard Turk,& Mark Mergerth, Tammie and Ken Mullikin, Mark and Joyce Brainard, Julie Jacobson, Kathy Bentz, Brad Cook, Mark Morse, Jack Daniels, Andy Nelson and sons, Joel Fulkerson, Shane Winden, and Ian Clark
We'd also like to thank Karen Anderson and the supportive staff of the Billings Gazette, Shane Richards and Bill Gottwalls of US Bank, Tom Emerling for his assistance in purchasing the building, and Pat Endres at Central Products for his wonderful sign design. If we missed anyone, please accept our sincerest apologies!
Looking forward to another 30 years,
Eddie and Robin Schmidt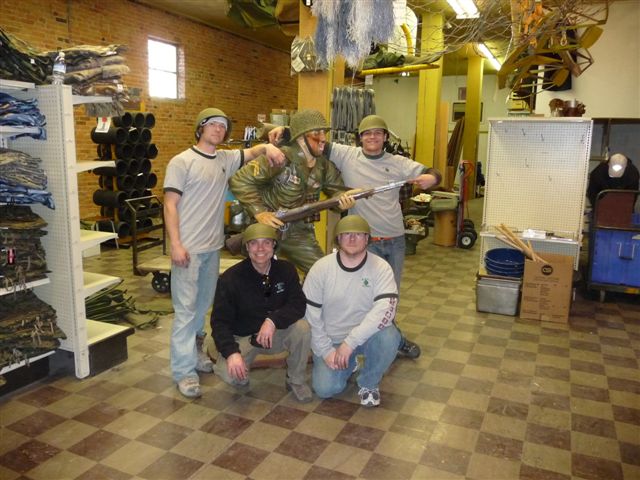 Taking a well-deserved break at the old store.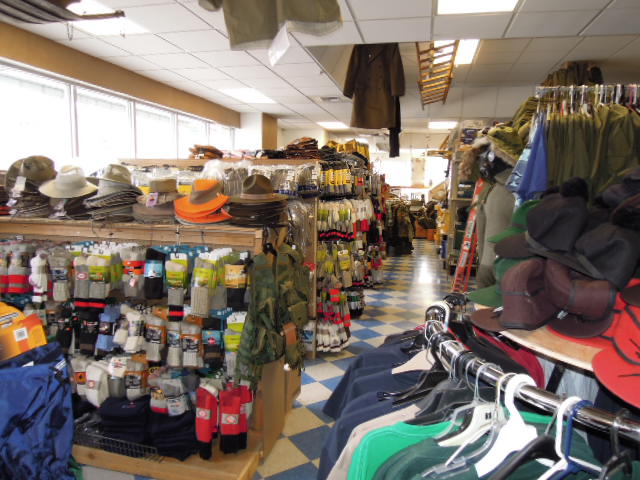 Workwear: A small glimpse of the new store.