Posted by Eddie Schmidt on Jul 10th 2014
Imagine, if you will, an early 1950s North American F-86 Sabre, best known as the United States' first swept wing fighter, flying through Korean skies in a high-speed dogfight. One of the best and most important fighter aircraft in the Korean War, the F-86 Sabre proved versatile and adaptable. It continued as a front-line fighter in numerous air forces world-wide for decades to come!
Fast forward to 2014 and take a walk into our own Billings Army Navy Surplus store. Here you'll discover our newest mascot, fondly referred to as 'Tank', a never-used Military Jet Drop Fuel Tank from the legendary F-86 Sabre. While 'Tank' looks like a large missile, we added our own brand of Go-ArmyNavy style and personality. And now he greets the world with a special design patterned after the nose art of many of the 1950s era of fighter jets — a snarling shark!
We acquired two of these fuel tanks (brand-new in their crates) and are proud to have obtained such a piece of history. One jet drop fuel tank is without adornment, the other is 'Tank' and we're only willing to part with him if the right 'home' is offered.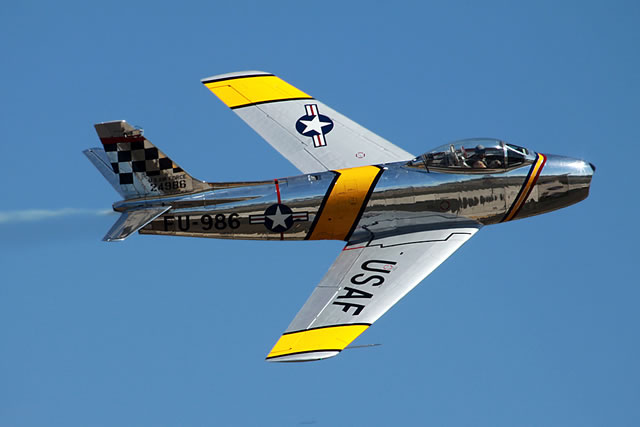 By Paul Nelhams from Shannon, Ireland (F86Uploaded by russavia) [CC-BY-SA-2.0], via Wikimedia Commons
And, for warbird history buffs, here are some additional cool factoids about the amazing F-86 Sabre:
The F-86 transonic jet fighter aircraft served dual purpose as a fighter-bomber and a fighter-interceptor.
In 1949, the F-86 was put into service by the United States Air Force as part of the 1st Fighter Wing's 94th Fighter Squadron. It became the American's main air-to-air jet fighter in the Korean War.
Both the interceptor and fighter-bomber versions of this aircraft carried six 0.50 in (12.7 mm) M3 Browning machine guns with electrically boosted feed in the nose (later versions of the F-86H carried four 20 mm (0.79 in) cannons instead of machine guns). Firing at a rate of 1,200 rounds per minute, the .50 in (12.7 mm) guns were harmonized to converge at 1,000 ft (300 m) in front of the aircraft, using armor-piercing (AP) and armor-piercing incendiary (API) rounds, with one armor-piercing incendiary tracer (APIT) for every five AP or API rounds.
The MiG-15 couldn't exceed Mach 0.92 safely, while the F-86E's all-moving tailplane could recover from a sonic dive near or exceeding the speed of sound. This was a very important advantage in near-sonic air combat.
Many combat-experienced pilots claimed when the F-86F was introduced in 1953 that it was marginally superior to the Russian MiG.
In September 1948, the F-86A clocked in at 670 miles per hour — its first official world speed record.
Although unofficial, several people in the know said that the test pilot George Welch broke the sound barrier October 1, 1947 during a test flight.
Jacqueline (Jacky) Cochran became the first woman to break the sound barrier on May 18, 1953. She flew a 'one-off' Canadian-built F-86 Sabre Mk 3 alongside Chuck Yeager.
If you want to see this baby up close and personal, take a summer vacation to Wisconsin and attend the EAA AirVenture Oshkosh!
Jacky Cochran in the F-86 cockpit, with Chuck Yeager. (Photo in public domain on Wikipedia Commons.)
We had a lot of fun creating 'Tank'. However, these crazy guys have outdone us to the max! They took three F-86 fuel tanks to make one amazing fuel tank shark sculpture. Incredible!
And, last but not least. See the F-86 and MiG-15 in action from the History Channel: Col. Ralph Parr in a dogfight during the Korean War.