Posted by Eddie Schmidt on Mar 23rd 2021
Back in 1858, Charles Darwin proposed that new species arose through evolution by natural selection. He recognized it was by way of individuals that were stronger, faster, or better camouflaged.
A fawn with dappled spots, an octopus changing color with its ocean home, the pattern of a lizard blending with a rock or tree branch… These masters at merging with their habitats join the ranks of many other experts at hiding in plain sight — masters of illusion and experts at survival.
Camoufleurs of World War I
During WWI, with the emergence of trench warfare and machines guns in full-on industrial level conflict, aerial surveillance and photography swiftly became a strategic game changer. It was essential that major armies develop large-scale camouflage techniques such as concealment, disguise, and even mannequins to prevent enemy detection of troops, vehicles, and positions.
Visual deception, or military camouflage in this case, grew into an art and a science that included research into animal camouflage. In April 1917, the U.S. established a unit of 'camoufleurs'. These people were artists, architects, and designers in their civilian lives and officially known as the New York Camouflage Society.
Interestingly, patterns that were part of the camouflage schemes of the WWI and Interwar periods were called dazzle patterns and often described as 'cubist'.
French artist Lucien-Victor Guirand de Scévola was considered one of the early inventors of military camouflage together with with Eugène Corbin and the painter Louis Guingot. De Scévola said of his camouflage work: "In order to deform totally the aspect of an object, I had to employ the means that cubists use to represent it."
Serving as a second-class gunner at the start of the war in September 1914, De Scévola, experimentally camouflaged a gun emplacement with a painted canvas screen. By May 1915, after the Section de Camouflage was formalized, his first observation tree was erected. It was an iron lookout post camouflaged with bark and other materials during the Battle of Artois. By the end of that year, De Scévola became commander of the French Camouflage Corps, employing cubist artists such as André Mare, a specialist in camouflaging lookout posts.
World War II Camouflage
Now let's fast forward to WWII when military visual deception was in full swing!
British and Soviet aircraft were given wave-type camouflage paintwork for their upper surfaces throughout the war. America instead chose dual-color schemes with different upper and under sides. Italian, plus a selection of Japanese aircraft, wore sprayed-on spotted patterns, while German aircraft often used an angular splint-pattern camouflage.
WWII witnessed enormous growth in the size of military aviation worldwide. The American military aviation started with approximately 2,500 airplanes and by the war's end had nearly 300,000. The skies were filled with menace and strategic bombing necessitated efforts to conceal airfields and major production plants.
Enter Boeing Plant 2 based in Seattle along the Duwamish Waterway and home of the B-17 Flying Fortress which was critical to the efforts of Allied Forces. Friction with Japan was extremely high and there were fears that the Boeing plant may be discovered. So a massive undertaking was planned to hide the aircraft manufacturing facility in plain sight using positional camouflage.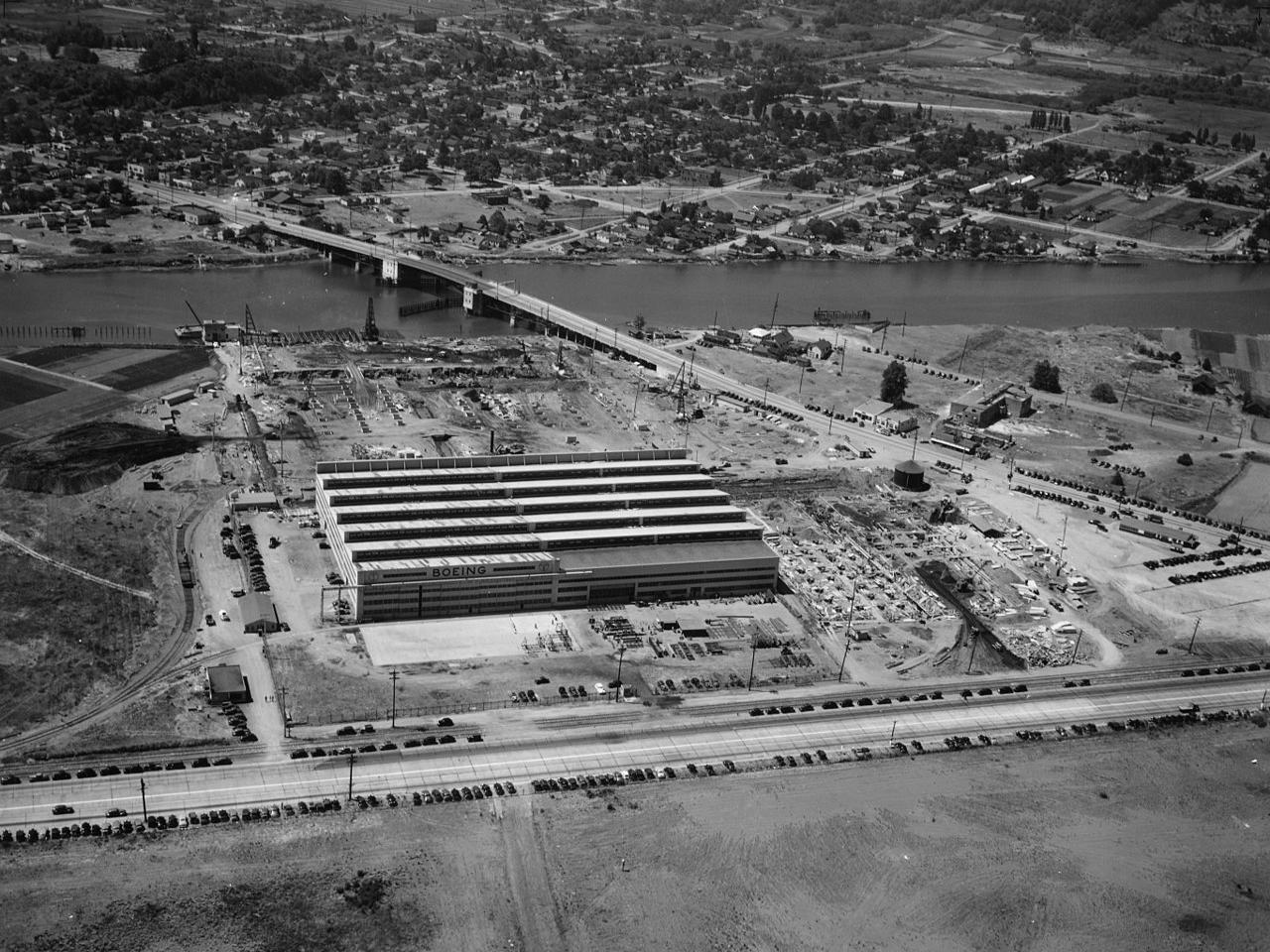 Boeing Factory 2 in Seattle, Washington, 1940 (National Archives Catalog, public domain)
Non-Military Masters of Illusion
Another master of illusion was called upon to help… Hollywood.
One of Hollywood's brightest set designers, John Stewart Detlie, was hired to help devise a charming 23-acre neighborhood. He built it with fake houses, fake streets, fake trees, fake sidewalks and astroturf grass. Even fences were connected and yards added to finalize the idyllic suburb. Cars were parked — and even moved at times — in order to make this feat of camouflage more compelling.
Every set design technique was employed to ensure success of the slightly smaller than life-size scale 'community' erected 40 feet above the Boeing plant. It was designed to deceive spy planes and would-be attackers. It effectively hid up to 30,000 people, often working three shifts, pumping out more than 300 bombers a month. According to Boeing, at the peak of the war effort on a single day in April 1944, they assembled 16 B-17 bombers and built 6,981 B-17s during the entire war period.
For many years afterward, the largely empty but famous Boeing Plant housed three airplanes acquired by the Museum of Flight, two Boeing bombers, a B-17 Flying Fortress and a B-29 Superfortress — plus a Lockheed Super Constellation — each of which was destined for restoration and finally displayed at the museum. So while the picturesque, but fake, suburb no longer stands watch, we do have two monuments honoring our Boeing bomber history—and living monuments of survival against all odds.
So Where the Heck Are Photos of the Fake City?
We really did want to show you pictures of Boeing Plant 2 camouflage community but they literally cost an arm and a leg for licensing privileges. So you can view pictures of Seattle's fake city on Boeing's website instead. When you get there, click the first image to start the slideshow. The photos are amazing!
Also, check out the only flyable B-17 F-model left in the world at the Museum of Flight.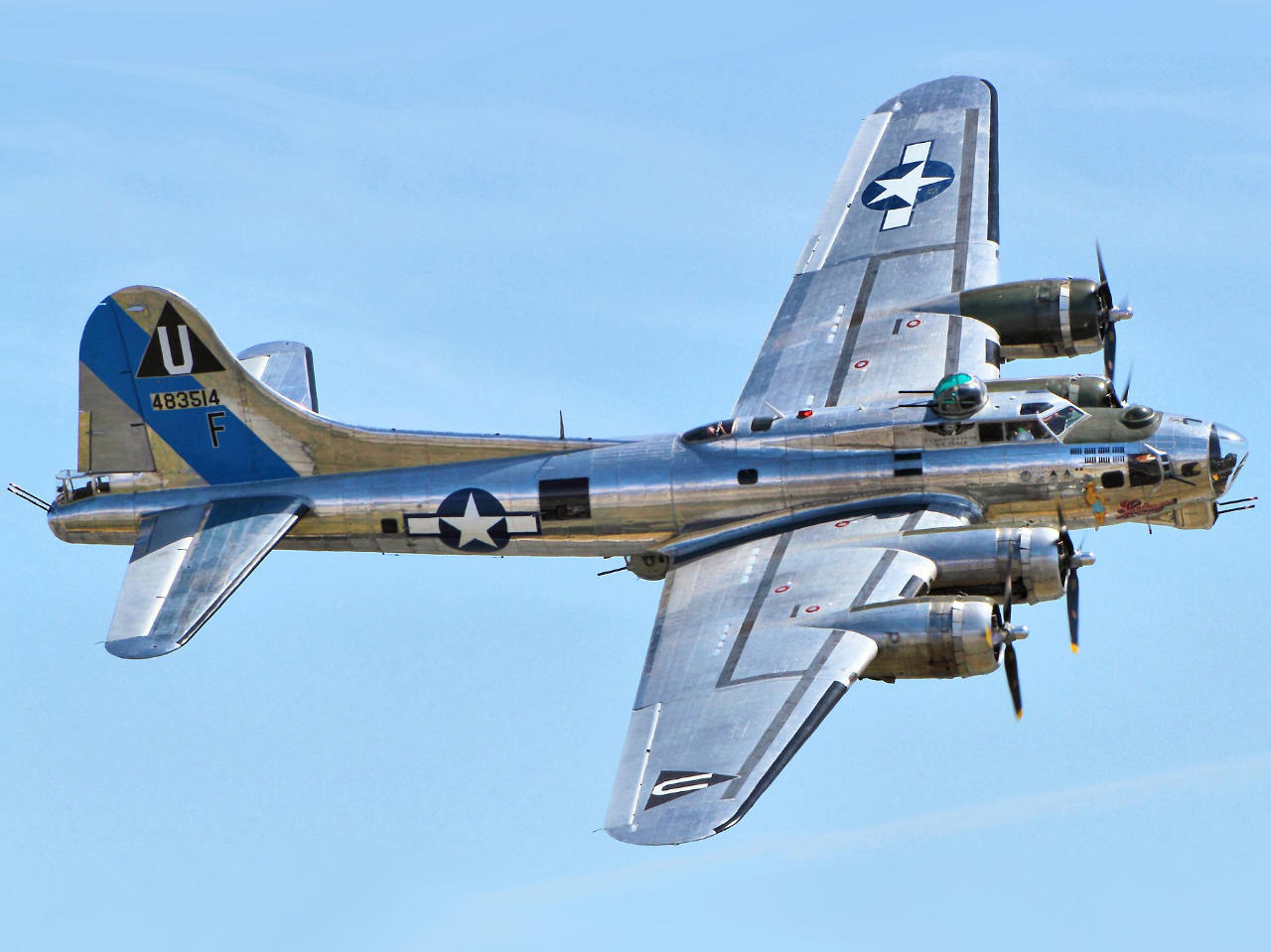 B-17 at Chino Airshow 2014 (airwolfhound)