Posted by Eddie Schmidt on Oct 26th 2009
Sock Monkeys have been around for decades and are as much loved today as they ever were. The original pattern may not have changed but crafters' personal touches make no two alike.
Materials
Polyester fiberfill for stuffing
Red knitting yarn
Black and white embroidery floss (optional)
Pattern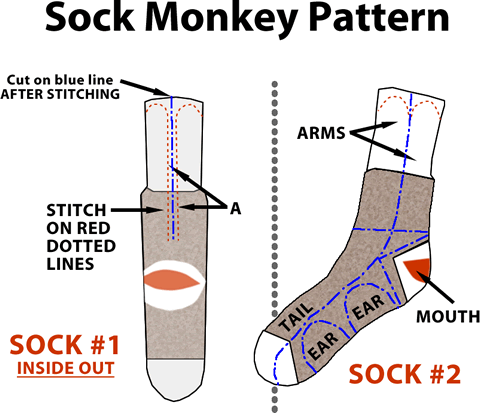 Sock Monkey Instructions
Head, Body and Legs
IMPORTANT: Turn Sock #1 inside out before proceeding!
View seam 'A' on on the monkey sock pattern for reference. Sew a 1/2″ seam on both sides of the center of sock starting 3″ from the white heel and across the end of the top. Cut the sock between the seams and to within 1-1/2″ of white heel. This leaves an opening in crotch.
Then turn sock so seams are inside and use crotch opening to stuff head, body and legs.
Note: The rest of the pieces are cut from Sock #2.
Arms
Cut the upper part of the sock into 2 pieces. Seam with right sides together and round the ends. Turn right side out and stuff the arms.
Mouth
Leaving a brown edge around the white, cut the heel from the sock. Attach to the lower part of the face, whipping around the bottom. Stuff and finish sewing around top. The mouth can be accentuated by a running stitch of either black or white embroidery floss across the middle of the lips.
Tail
Cut a 1″ strip, taper to end of toe on length of front of sock. Seam and stuff. Note: If you are using a third sock for a cap, you can have a longer tail by cutting it from the extra sock instead.
Ears
Cut the ears from the remaining brown part of the sole of the sock.
Eyes
Sew on moving eyes, buttons, or felt. If you are making this for a very young child, the eyes should be embroidered to avoid swallowing. You can embroidery additional features if you wish.
Cap (optional)
Cut off the toe of another sock, leaving 1/2″ of brown to roll for a brim.
There are many variations on this pattern including a more detailed sock monkey pattern online. You can decorate your sock monkey with yarn, ribbon, pompoms, or bells. You may get some inspiration from crafters that like to dress up their sock monkeys!