Posted by Eddie Schmidt on May 21st 2014
On May 1st, Billings Army Navy lost a valued and much-loved member of our team, Tom Jacobson. In truth, our team is like extended family and we deeply mourn Tom's sudden departure.
He was a trusted friend and confidante, someone always willing to pitch in. From the day he started work with us, he fit right in with our own brilliant bunch of misfits. Tom was a man of few words but what he did say was poignant, and his witty (sometimes sarcastic) sense of humor never failed to lift the moment, or amuse us all.
His work ethic was tried and true, a 'measure it twice — maybe four times — but only cut it once' kind of guy who always got the job done. His own distinct work 'uniform' — two Carhartt shirts topped with a gray Carhartt sweatshirt — prompted us to choose it as our Halloween costume last year, for everyone! So many great memories.
Among his duties, Tom was Keeper of the Keg calendar, documenting in red when a new keg was purchased and when it 'blew'. This included appropriate comments when he thought the keg went too quickly!
And, after chores were done and his work day complete, he was the first to say, 'It must be time for a beer.' Hopefully, Tom will find his way to Heaven's 'tavern', belly up to the bar with his mischievous grin and greeting, "Well, hello Bartender!"
Our favorite Tom-isms are:
The pleasure is in the Pour.
A cop wearing a Depends is just a little slice of Heaven.
When it comes to flesh, I don't monkey with it.
I could hang in a bologna shop!
R.I.P Tom, safe travels. You are deeply missed.
Tom Jacobson
May 1, 2014
If you knew Tom, please read his obituary in the Billings Gazette.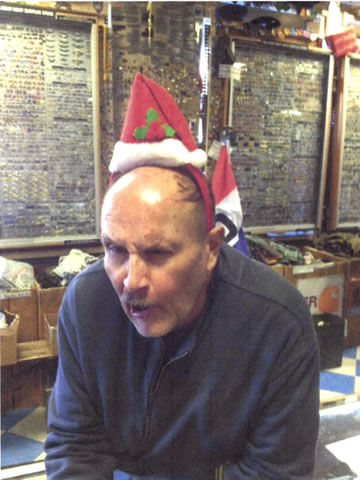 Tom being festive at Christmas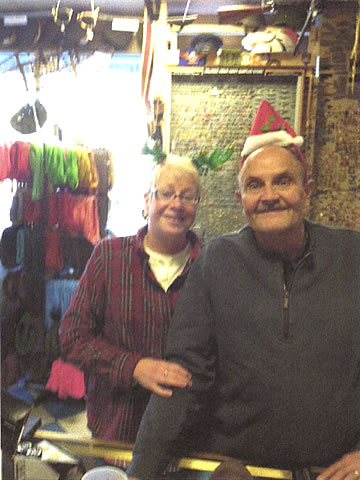 Robin behind Tom at Christmas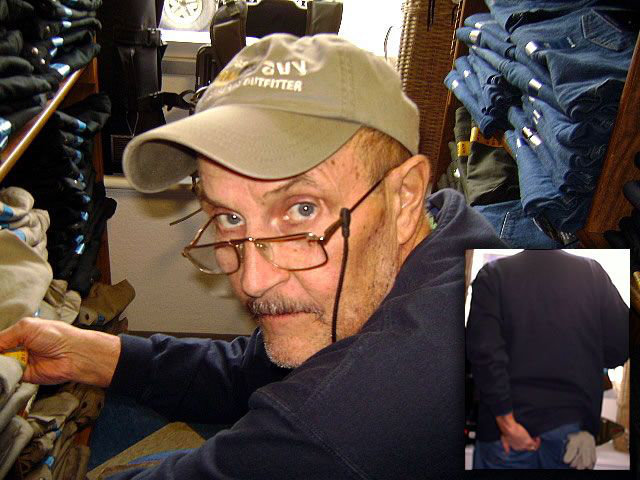 Tom horsing around — but then you knew that!