Posted by Eddie Schmidt on Apr 30th 2016
Join us May 6–8 for our first annual Tru-Spec Uniform and Tactical Equipment Sale! You can see all the new products and all the old stand-bys that you've come to love over the years. We'll feature reducing pricing in all gear and clothing categories. And you can hobnob with Kurt Wendling, our manufacturer rep from Tru-Spec.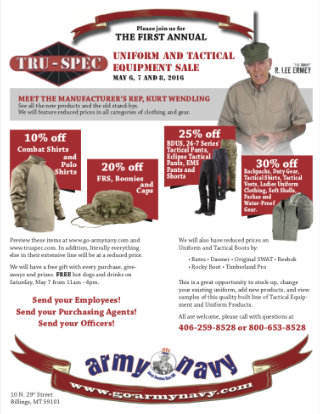 10% off Combat Shirts and Polo Shirts
20% off FRS, Boonies and Caps
25% off BDUs
25% off 24-7 Series and Eclipse Tactical Pants
25% off EMS Pants and Shorts
30% off Backpacks
30% off Duty Gear,
30% offTactical Shirts and Vests
30% off Ladies Uniform Clothing
30% off Soft Shells and Parkas
30% off Water-Proof Gear
Uniform & Tactical Boot Savings:
Bates
Danner
Original SWAT
Reebok
Rocky Boot
Timberland Pro
We will be giving away a free gift with every purchase plus giveaways and prizes. And don't miss free hot dogs and drinks on Saturday, May 7 from 11am–4pm. For more details print out our Tru-Spec sale flyer.